1 - Assembling and inspection technologies
1.2 - Repeat of some basic technologies in the course "Technology of Electronics Products"
Type of components in electronics
The electronic devices and components can be classified according to its function: active or passive; by the type of assembly: through-hole or surface mounted and by the number of functions: discrete or integrated components (IC).
| | |
| --- | --- |
| Surface mounted resistor | Surface mounted IC (QFP) |
Through-hole components
Through-hole components have flexible or rigid/fixed leads. The flexible leads are bent according to the position of the holes in the Printed Wiring Board and cut to the proper size. At Through-Hole Technology (THT), component leads are inserted through the holes of the printed wiring board (PWB or PCB); and soldered to the lands on its other side. Thus, a pure TH assembly has a "component side" and a "soldering side".

Surface mounted components
They have short leads (which are inappropriate for through-hole mounting) or solderable metallized terminals on the sides or on the bottom of the package. The copper pattern (footprint) on the Printed Wiring Board is designed according to the geometrical layout of the components' terminals. The components are placed onto the soldering pads and they are soldered on the same side.

Printed wiring boards
The printed wiring board (PWB or PCB) is a substrate for fixing the components mechanically and to form electrical interconnections between them. The conductor layout (wiring) is created on an insulating resin substrate. The conductive metal is usually copper, with standard thicknesses of 17, 35, 70, (105) µm.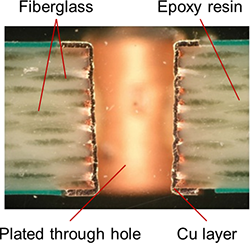 The printed wiring boards can be classified by the mechanical properties of the substrate: rigid, flexible, rigid-flex; by the number of conductive planes: single- and double-sided, multilayer boards and by the patterning technology: subtractive, additive, semi-additive.

---